To some people, this may not sound like a success story, but the dedication level of Vicki to never give up once you commit makes it a success story in spite of and because of the "specialness" of this dog.
For those of you who don't know, I've added to my husky family. A month ago I got another girl, thanks to the amazing rescue folks at Husky Camp. She came to me named Savannah, but she wouldn't answer to it, so I changed it to something two syllable and easier to shout across the dog park or into the kitchen when she was up on the counters. She answers to Sasha now. Also No! Get Down!
and What?! The two of them are getting along pretty well. I am certainly getting quite a bit of exercise.

http://homepage.mac.com/vrandle/PhotoAlbum8.html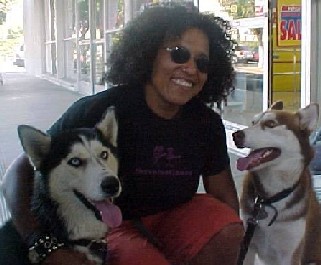 We wanted to express our overwhelming thanks to Husky Camp for matching us with our Siberian Husky "Paige." We adopted her at the age of 2 more then a year ago. She is thriving in her new home and loves being part of a family. She unpacked most of her bags when she first arrived home after being abandoned and placed at the rescue. After a time she has proven to be an extremely loyal dog never to leave her new loving family. Her hobbies are: camping, playing chase, swimming, visiting dog beach, walks, snacking, napping and hunting small prey (although she doesn't know what to do with them once caught). She endures the long brushings from the kids and playing dress up for the activity of the day. Thank you again for doing what you do in bringing joy into peoples lives.